Page - Store
YOUTH Anti-Aging Regime
89454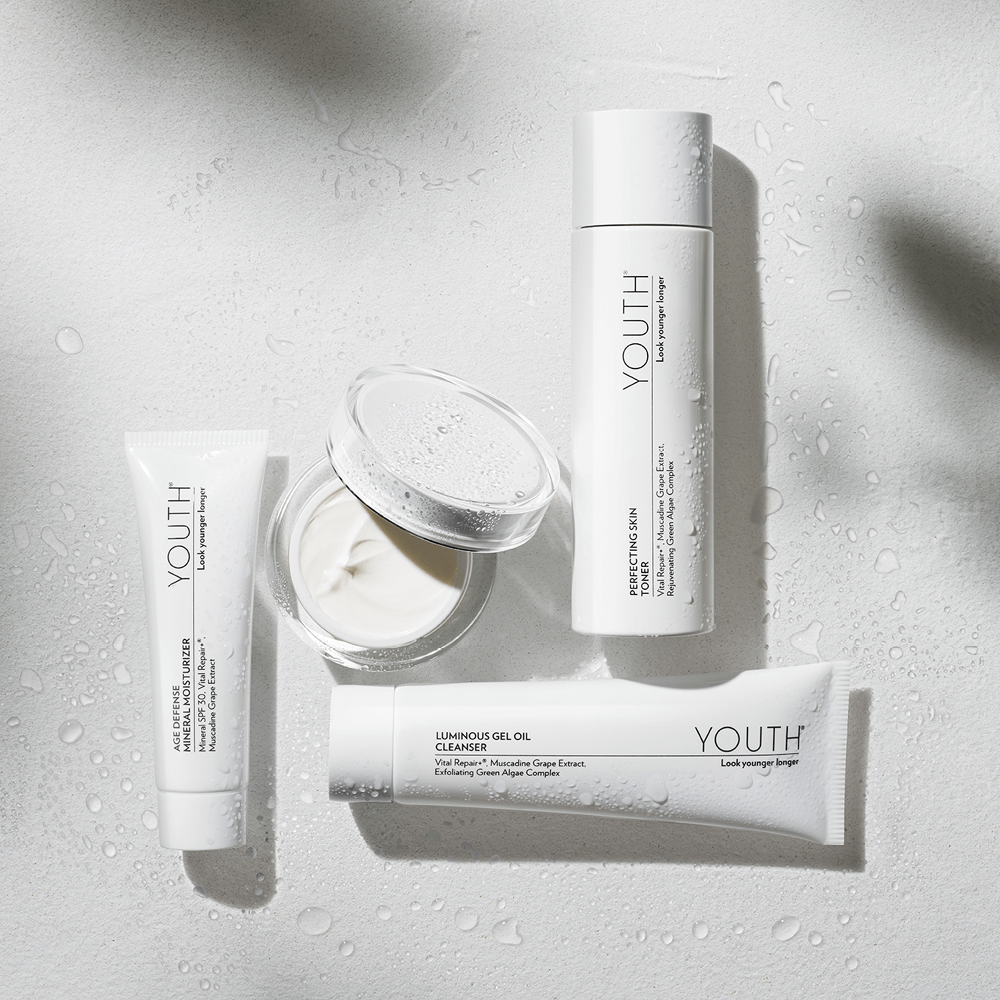 The Anti-Aging Regimen was designed to work together for improved skin texture, firmness, and reducing the appearance of wrinkles. Our revolutionary Youth Complex is in every single product, providing treatment benefits in each of the three simple steps. YOUTH products are all 100% vegan and cruelty free.
The Anti-Aging Regimen includes:
Step 1: Luminous Gel Oil Cleanser - 3-in-1, soap-free, pH-balanced cleanser. Gently polish, purify and prepare your skin.
Step 2: Perfecting Skin Toner - Free your skin of dull cells and environmental pollutants. Exfoliate, hydrate and nourish for glowing skin.
Step 3 Day: Age Defense Mineral Moisturizer - Naturally derived zinc oxide provides chemical-free SPF 30 Broad Spectrum UVA/UVB protection. Vitamins and botanicals moisturize your skin and improve skin tone.
Step 3 Night: Advanced Renewal Night Cream - This targeted night repair cream supports your skin's cell renewal process. A proprietary botanical blend helps collagen and elastin production to make skin appear younger looking, smoother, and more luminous. Available in Light or Rich formulas.
Each YOUTH product shown contains a 60-day supply.
Look Younger Longer
The YOUTH® skin care collection offers clinically proven products created in harmony with nature. Our promise is that you will not only dramatically improve the health of your skin with YOUTH, but it's 100% guaranteed to shift your skin to a younger age.
A Decade of Aging Erased
We knew our Youth Complex would transform how people saw themselves, but could we prove their skin actually became younger?
Clinically developed by world-class skin experts, the Skin Age Index measures the appearance of key signs of aging with factual clinical data: facial wrinkles, skin texture, pore size, hyperpigmentation, even skin tone, radiance, firmness, and sagging.
100% OF WOMEN HAD YOUNGER-LOOKING SKIN
2/3 ACTUALLY SHIFTED THEIR SKIN AGE INTO YOUNGER DECADE
Clinical Results Without Compromise™
We've proven you don't have to sacrifice safety and purity for efficacy.
YOUTH products are all 100% vegan and cruelty free. And our comprehensive "Free of" list contains over 2,500 harmful chemicals and questionable ingredients that you will never find in any of our YOUTH products.
The Power of Botanicals
With eight patents and patents-pending, each YOUTH product is specifically formulated to address the multiple effects of aging.
Lotus Japonicus
Patent-pending Youth Complex, infused with Lotus Japonicus, activates a key youth protein to regenerate cells to produce more collagen and elastin. Youth Complex couples Lotus Japonicus with Schisandra Chinensis Fruit Extract that structurally helps provide more nutrients and energy to the skin.
Muscadine Grape
Patent-pending muscadine grape polyphenol blend, found in each product in the YOUTH collection, protects and repairs cellular DNA in your skin while blocking collagen and elastin breakdown.
Vital Repair®+ Complex
Multi-patented Advanced Vital Repair+ Complex provides antioxidant nutrients and essential vitamins to block skin-damaging free radicals and encourage healthy cell growth.