Page - Store
Vitalizer Women
20283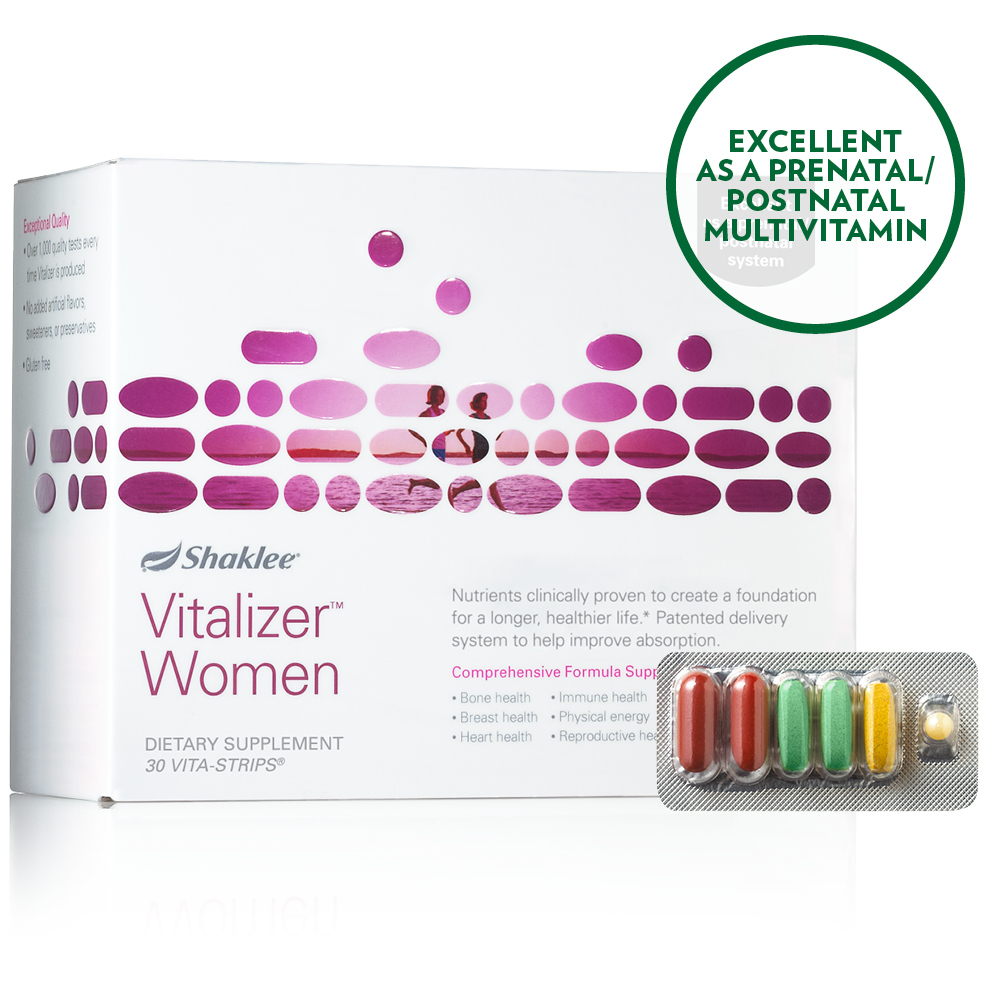 Everyday nutrition for life™
Overview:
VitalizerTM is supplementation made simple. Our unique, clinically supported solution packs essential nutrition into a convenient, everyday, go-anywhere Vita-Strip®. Designed to enhance absorption, Vitalizer provides vitamins, minerals, antioxidants, omega-3s, and healthy probiotics—all in one Vitalizer Vita-Strip®.
Based on 12 clinical studies and a first-of-its-kind Landmark Study
Patent-pending delivery system designed to enhance absorption of key nutrients
Vitalizer supports heart, bone, joint, immune, digestive, brain and vision health, and physical energy. With formulas customized for men, women and adults over 50.
And now, Vitalizer Women is excellent as a prenatal/postnatal multivitamin. Vitalizer Women provides a full spectrum of nutritional support including 800 mcg of folic acid, 200 mcg of iodine and 18 mg of iron.

Feel better in 30 days or your money back.
Features:
Every Vitamin + Minerals Your Body Needs
Bio-optimized nutrients for optimum absorption
High potency to fuel your body's most vital functions
100% or more of the Daily Value of all vitamins
All eight essential B vitamins, including biotin
Higher levels of vitamin D3, the most potent form of vitamin D
Most Powerful Antioxidant Spectrum*
Helps protect cells, tissues, and organs against aging*
Superior protection against free radical damage*
Full-spectrum vitamin E from all eight natural forms
26 antioxidants working together to augment your body's antioxidant network*
All 7 Omega-3 Fatty Acids
Help reduce the risk of heart disease**, also promotes brain and joint health*
High potency EPA and DHA
Ultra-pure, pharmaceutical grade
Contains natural fish oil derived from small, cold-water fish
Guaranteed Superactive Probiotics
Support healthy digestion and immunity*
Extensively studied active cultures
Patent-pending delivery system
Shaklee Difference:
Based on 12 clinical studies and the Landmark Study, one of the largest studies ever done on long-term supplement users which showed that Shaklee supplement users had markedly better health than nonsupplement users.
Vitalizer is the only multinutrient pack in the market that uses Shaklee Micronutrient Advanced Release Technology (S.M.A.R.T.), a unique, patent-pending delivery system designed to dramatically improve absorption of key nutrients. The right nutrients, in the right place, at the right time. That's S.M.A.R.T.
Directions:
Vitalizer: one strip a day, every day. Best if taken with a meal.
Video: