Page - Store
Stress Relief Complex
20656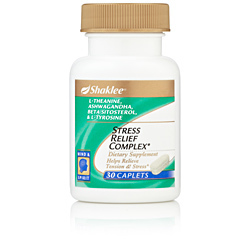 Natural stress relief you can safely take every day*
Overview:
Stress Relief Complex contains a blend of clinically tested ingredients and has been designed to support a calm, more relaxed state without causing drowsiness.
Stress can elevate your body's levels of cortisol, and continuously high levels have been linked to longterm health impacts. Stress Relief Complex was designed to help support your body's response to stress.
Features:
The Stress Relief Complex formula contains ashwagandha, a traditional herb used to help the body adapt to heightened stress. Also contains L-theanine, ashwagandha, beta sitosterol, and L-tyrosine.

Shaklee Difference:
Stress Relief Complex was tested in a preliminary 7-day, double-blind, placebo-controlled, employee use test.‡
In four key categories (feeling relaxed, being more alert, feeling less tense, and having better concentration), people taking Stress Relief Complex felt more benefits than those who consumed a placebo in a preliminary employee use test.
‡Based on results form a preliminary, double-blind, placebo-controlled employee test.
Directions:
Adults take 1 caplet per day with meal. If pregnant or nursing, please ask a health care professional.
* These statements have not been evaluated by the Food and Drug Administration. These products are not intended to diagnose, treat, cure or prevent any disease.