Page - Store
Shaklee Life Plan - Soy Protein Blend
89383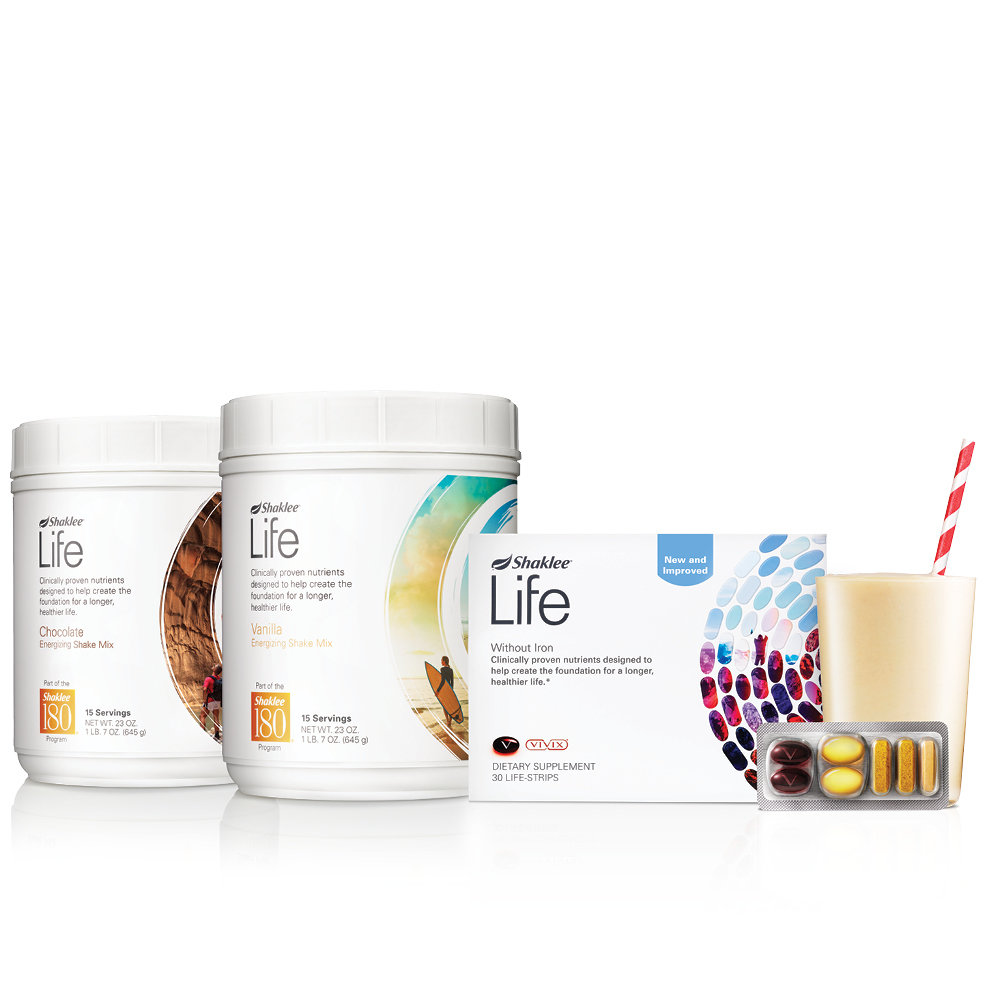 Life Energizing Shake - available in soy, vegan soy and non-soy varieties.
Delicious meal shake designed to:
increase energy
help you achieve a healthier weight
provide digestive and immune support
Contains:

24 gramsⱡ of protein, including 16 grams of proprietary, ultra-pure plant-based non-GMO protein with precise ratios of 9 essential amino acids, optimized for high protein quality.
Added leucine to help preserve lean muscle and achieve a healthier weight
Powerful patent-pending combination of prebiotics and one billion CFU of patented probiotics to support immune and digestive health
Omega-3 (ALA), an essential fatty acid that supports heart and brain health
Life Energizing Shake is also available in Plain & Simple and Non-Soy varieties.

Plain & Simple† shake is a vegan soy formula with no sugar or sweeteners. It's unflavored and lower calorie, perfect for customizing with your favorite flavors.
Soy-free shake contains an exclusive blend of non-GMO protein from sacha inchi, potato, rice, pea and leucine.
Gluten free, lactose free, low glycemic, kosher, and no artificial flavors, sweeteners or preservatives.
ⱡ When prepared as directed with 1 cup of nonfat milk. † Life Energizing Shake Plain & Simple does not contain probiotics.
Life-Strip - available with and without iron
The Life-Strip delivers pure, potent vitamins, minerals, polyphenols, antioxidants, and phytonutrients to help support optimal health.*
Vivix® Liquigels for Cellular Health; Healthy Aging* Contains an all natural blend of a broad spectrum of polyphenols, backed by six patents, with key ingredients shown in laboratory studies to protect and repair DNA and combat free radicals.
OmegaGuard® Plus for Heart Health; Brain Health* 1,000 mg of pure, ultra-concentrated DHA/EPA omega-3 fatty acids sustainably sourced from wild fish from pure Alaskan waters, formulated to eliminate fishy aftertaste. Smaller size, easy to swallow.
Advanced Multivitamin for Complete Nutrition; Bone and Joint Health* Dissolves in less than 30 minutes in the stomach and is designed to enhance absorption of folic acid from the patented microcoating; includes heart-healthy CoQ10* and vitamin E.
B+C Complex for Immune Health; Energy* Shown in a clinical study to provide up to 198% greater absorption of B vitamins over 12 hours.