Page - Store
NutriFeron Share It Pack (Caplets) SAVE 10% with purchase of 4 Bottles
59193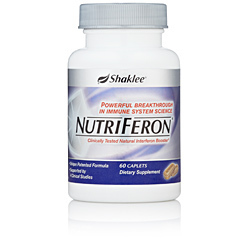 Powerful breakthrough in immune system science.
Overview:
Scientists and medical communities have identified interferon as being crucial to healthy immune function.
NutriFeron is an exclusive, patented formula, which provides a proprietary blend of four plant extracts designed to naturally increase levels of interferon and provide immune support at the cellular level.
Shaklee Difference:
NutriFeron is the only dietary supplement in the U.S. created by the discoverer of interferon, world-renowned immunologist, Dr. Yashuhiko Kojima, designed to naturally increase the production of interferon in the body.

Directions:
Adults take 2 capsules daily with meal. If pregnant or nursing, please ask a health care professional.
* These statements have not been evaluated by the Food and Drug Administration. These products are not intended to diagnose, treat, cure or prevent any disease.