Page - Store
Lecithin
20182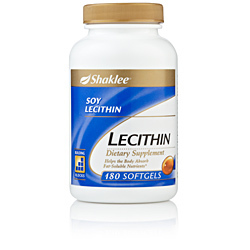 Nature's Emulsifier.
Overview:
The National Academy of Sciences has established that choline is important in the diet because it supports brain, liver, cardiovascular, and reproductive health. Choline is a component of the neurotransmitter acetylcholine, which is involved in the transmission of messages in the brain and nervous system.*

Features:
Shaklee's Lecithin:

Naturally sourced from soybeans
Each serving provides 3.1 grams of choline-rich lecithin, including 468 mg of phosphatidylcholine and 282 mg of phosphatidylinositol
Directions:
Adults take 6 softgels daily.