Page - Store
Immunity Formula I
20241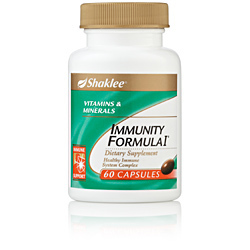 Nutritional Support for Your Immune System.
Overview:
To keep your immune system strong and in good working order, Immunity Formula I provides the essential nutrients for healthy immune function. Full nutrition potency is guaranteed with ShakleeGuard®, a patented blend of antioxidants and rosemary extract.

Features:
Contains a blend of six immunoactive vitamins - vitamin A in the form of beta carotene, vitamins C, E, B6, B12 and folic acid. It also contains mineral support for a strong immune system including: copper, selenium, and zinc.

Zinc, vitamins E and C, and beta carotene also provide dietary support for healthy skin - your first line of defense


Directions:
Adults take 1 capsule daily.