Page - Store
Get Clean Starter Kit with Fresh Laundry Concentrate HE CompatibleFragrance Free (Liquid)
50457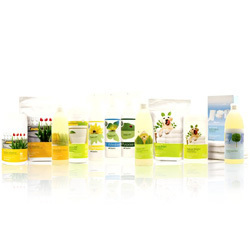 All you need to start cleaning your way to a healthier home
Overview:
We believe that health isn't just about what you put in your body, it's about everything around you. We bring you a full line of natural and nontoxic cleaning choices that are Safe for You, Your Home, and Your Planet® called Get Clean®.
No harmful fumes or hazardous chemicals.
Outperforms 20 national leading brands.
You would spend $3400 for ready to use cleaners to get the same amount of clean found in the Get Clean Starter Kit!*
Features Basic H2® Organic Super Cleaning Concentrate - just 1/4 tsp. makes 16oz. of all-purpose cleaner for only 3 cents.
And when you purchase the Get Clean Starter Kit you also make a positive impact on the planet:
Keep 108 pounds of packaging waste from landfills.
Eliminate 248 pounds of greenhouse gas.
The Get Clean Starter Kit contains:
Basic H2® Organic Super Cleaning Concentrate, 16 oz. (1)
Germ Off Disinfecting Wipes, 35 Wipes (1)
Nature Bright® Laundry Booster and Stain Remover, 32 oz. (1)
Dish Wash Concentrate, 16 oz. (1)
Dish Washer Automatic Concentrate, 32 oz. (1)
Fresh Laundry Concentrate HE Compatible, Fragrance Free 32 oz. (Liquid) (1)
Soft Fabric Dryer Sheets, 80 sheets (1)
Dish Washer Automatic Concentrate Dispenser (empty) (1)
Nature Bright® Dispenser (empty) (1)
Including all the accessories you need to get really clean:
Organizer Caddy (1)
Spray Bottles (3)

Windows and Mirrors
All-Purpose
Degreasing

Dropper Pipette (1)
1/4 oz. Dispenser Pump for 32 oz. Bottle (1)
Laundry Measuring cup (1)
Dual Measuring Spoon (1)
Cleaning Accessories (4)

Super Microfiber Cleaning Cloth
Super Microfiber Window Cloth
Super Microfiber Dish Sponge
Miracle Scrubber Pad
Features:
The Get Clean Starter Kit contains:
Basic H2® Organic Super Cleaning Concentrate, 16 oz. (1)
Germ Off Disinfecting Wipes, 35 Wipes (1)
Nature Bright® Laundry Booster and Stain Remover, 32 oz. (1)
Dish Wash Concentrate, 16 oz. (1)
Dish Washer Automatic Concentrate, 32 oz. (1)
Fresh Laundry Concentrate HE Compatible, Fragrance Free 32 oz. (Liquid) (1)