Page - Store
Gentle Sleep Complex
20603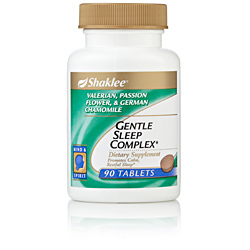 Naturally promotes restful sleep*

Overview:
Gentle Sleep Complex* combines a unique Shaklee combination of passion flower, German chamomile, and valerian.
Valerian has been used safely and traditionally to promote restful sleep.Key ingredients help promote relaxation and maintain a calm state*
Directions:
Swallow 3 tablets or crush and mix as a tea. If pregnant or nursing, ask a healthcare professional.

* These statements have not been evaluated by the Food and Drug Administration. These products are not intended to diagnose, treat, cure or prevent any disease.