Page - Store
Fresh Laundry Fragrance Free Concentrate HE Compatible (Liquid 32oz.)
300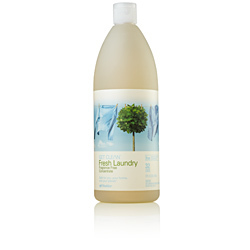 Powerful two-for-one concentrate to prespot and wash your laundry
Overview:
HE Compatible Formula
Also ideal for standard washers
Here's a fresh idea: Prespot your laundry with the same thing you use to wash it. This two-for-one concentrate doesn't just outperform leading detergents. It also out-removes big-name spot removers. And it does it in both high efficiency and standard washers while protecting natural resources. How's that for a breath of fresh laundry?
Directions:
Directions for best results:
For standard washers, use 1 oz. for medium loads and 2 oz. for large loads.

For high efficiency washers, use 1 oz. for medium and large loads.

To prespot stains, test a small spot first to make sure color won't bleed or fade. Wet fabric and rub a little Fresh Laundry right into the spot. Wash as usual. Check labels. Some flame-retardant fabrics need special care.