Page - Store
Fresh Laundry Concentrate HE Compatible (Liquid 64oz.)
114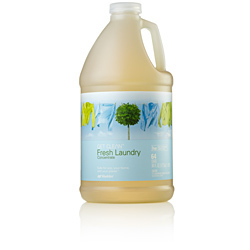 Earth-friendly laundry detergent and spot remover
Overview:
This dual-purpose, powerful triple-concentrated formula can be used for both laundry and pre-spotting. It doesnt just outperform leading detergents- it also out-removes big-name spot removers. And it does it while protecting natural resources. It works with both high-efficiency (HE) and standard washing machines.
Features:

HE compatible formula
Also ideal for use in standard washers
Available in Regular Scent or Fragrance Free
Superconcentrated – one small bottle cleans 32 medium loads, the same number as a 100 ounce bottle of conventional liquid laundry detergent.
Super performance in a small package – enzyme-activated natural cleaners deliver a powerful clean that rivals leading brands.
Two-in-1 product.
Small bottle is easy to carry, pour, and store – small size fits on your shelf.
Extra natural enzyme power boosters for color-safe whitening.
Formulated to help prevent dyes in colored clothes from transferring from one garment to another during wash.
Clean Credentials
Biodegradable Surfactants
Concentrated
Hypoallergenic
No phosphates
No chlorine
Shaklee Difference:
When used as a stain remover, 46% more effective than OxiClean® Versatile Stain Remover and 33% better than Resolve® Max Laundry Stain Remover, and when used as a liquid laundry concentrate comparable to Method® 8X Laundry Detergent, all® small & mighty® free clear, Tide® Free & Gentle, and Whole Foods 2X Concentrated Laundry Detergent.*

* Source: Sterling Laboratories. These performance comparisons were conducted on Oct. 8 and Oct. 14, 2013 and are valid only for the named products marketed at that time. All trademarks are the property of their respective owners.
All trademarks are the property of their respective owners.
Directions:
Directions for best results:
Standard washers, use 1 oz. for medium loads and 2 oz. for large loads.

For high efficiency (HE) washers, use 1 oz. for medium loads and large loads.

To prespot stains, first test a small spot to make sure color won't bleed or fade. Wet fabric and rub a little Fresh Laundry right into the spot. Wash as usual. Check labels. Some flame-retardant fabrics need special care.