Page - Store
CitriBoost®
20635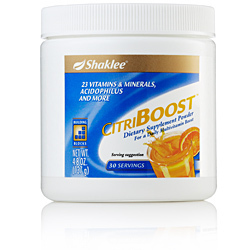 Overview:
CitriBoost is an easy to use powder that gives your body the vitamins and balanced nutrition it needs while also promoting long term digestive health.*
Features:
Contains 100% of the Daily Value of vitamins A, C, D, and E plus all eight B vitamins.

Directions:
Mix one scoop with 8 oz. of orange juice, or your favorite protein shake or smoothie. Enjoy immediately. For best results, stir vigorously. Refrigerate after opening.