Page - Store
Calming Complex
32538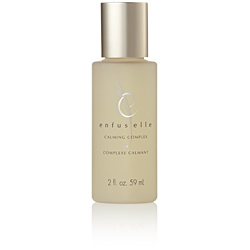 Soothes irritated skin
Overview:
Shaklee's Calming Complex is the ideal solution – a comforting, skin-smoothing, hypoallergenic formula that gives you the protective and soothing benefits of beta glucan, for a quick recovery from environmental stress.
It's the perfect "after" product - after sunburn, after skiing, after airplane travel, after hot/cold shifts - after anything that makes your skin irritated and craving for comfort.
Paraben free.
Features:
Contains beta glucan for clinically proven speedy recovery from environmental stress
Liposome delivery system
Perfect recovery product after sunburn, exposure to winter weather, or plane travel
Provides comfort and skin-smoothing moisture
Contains triple-patented Vital Repair+® Complex
Won't clog pores
Alcohol Free
100% fragrance, dye, oil, and paraben free
pH-balanced
Hypoallergenic
Dermatologist tested
Not tested on animals
Directions:
Smooth onto face before moisturizing, or anytime that skin craves comfort.
Shaklee Difference:
Clinically proven*:
145% decrease in the appearance of fine lines in 28 days
150% decrease in the appearance of wrinkles in 28 days
Significantly improves the skin's ability to retain moisture
http://www.shaklee.net/pws/library/products/tech_bulletin_7.pdf?primaryTab=training&secondaryTab=library
http://www.shaklee.net/pws/library/products/tech_bulletin_1_Introduction.pdf?primaryTab=training&secondaryTab=library
http://www.shaklee.net/pws/library/products/tech_bulletin_2.pdf?primaryTab=training&secondaryTab=library