Page - Store
Stomach Soothing Complex
20601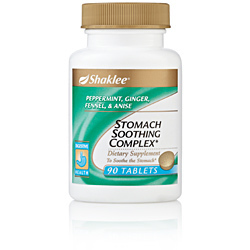 Relief for upset stomach*
Overview:
Stomach Soothing Complex* contains a unique four-herb formulation including peppermint, ginger, fennel, and anise traditionally used to provide relief for unsettled stomachs.

Features:
Stomach Soothing Complex contains:
Peppermint and ginger provide stomach soothing effects*
Great for travelers who get queasy stomachs in a car, boat, or airplane.
Clinical studies show that supplementing the diet with ginger may help maintain a calm stomach.*
Directions:
3 tablets after meal. If pregnant or nursing, ask a healthcare professional.

* These statements have not been evaluated by the Food and Drug Administration. These products are not intended to diagnose, treat, cure or prevent any disease.