Page - Store
Optiflora Probiotic Complex (Capsules)
20639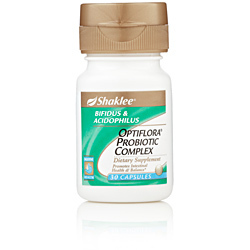 Everyday support for digestive health.
Overview:
Optiflora® is a unique two-product digestive health system that provides dietary support for normal, healthy intestinal microflora. Once the probiotics are delivered to the digestive system, prebiotics can deliver important nutrients that healthy intestinal bacteria need to grow and thrive.*
Optiflora® Prebiotic Complex helps:
Maintain a healthy digestive balance*
Provide nutrients to feed friendly bacteria*
Promote long-term intestinal health*
Optiflora® Probiotic Complex helps promote:
Healthy intestinal activity and good digestive health*
Shaklee Difference:
Potency advantage
Optiflora Probiotic Complex utilizes patented triple-layer encapsulation technology, is designed to live delivery of probiotics to the large intestine, where they provide the greatest benefit.
Directions:
Optiflora Prebiotic: Adults take 1 Teaspoon (4 g) per day, preferably with a meal. Optiflora Probiotic: Adults take 1 capsule per day, preferably with a meal.