Page - Store
EZ-Gest
20633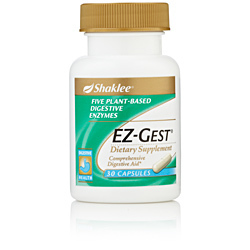 Digestion support*

Overview:
EZ-Gest offers as-needed relief from incomplete digestion of foods.*
Alleviates discomfort such as gas and bloating*
Features:
The ingredients in EZ-Gest support digestion of fat, protein, and carbohydrates including lactose*

Directions:
Adults take 1 capsule before meal, or as needed, as a digestive aid. If pregnant or nursing, please ask a health care professional.
* These statements have not been evaluated by the Food and Drug Administration. These products are not intended to diagnose, treat, cure or prevent any disease.