Page - Store
CarotoMax (30 Softgels)
20652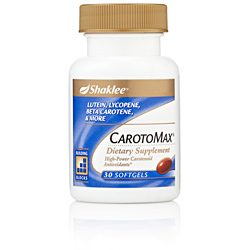 Helps preserve healthy vision*
Overview:
Studies have shown that the highest concentrations of lutein and zeaxanthin in the body are found in the eye. CarotoMax contains these most potent nutrients, along with other beneficial carotenoids, including beta-carotene and astaxanthin.
The key nutrients in CarotoMax have been shown to:
Increase the density of the macular pigment, an area critical to visual acuity
Help filter harmful UV light
Support healthy eye aging*
Shaklee Difference:
CarotoMax provides over 13 mg of the beneficial carotenoids: lutein, lycopene, and beta-carotene per serving. That's more than 1.5x the average estimated daily intake.
Directions:
Adults take 1 softgel per day with meal. If pregnant or nursing, please ask a health care professional.