Page - Store
Basic H2 Organic Super Cleaning Wipes
302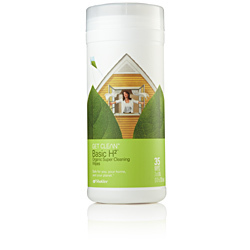 Powerful, all-purpose cleaning wipes
Overview:
We believe in a cleaner that doesn't leave behind more toxins than the toxins it's supposed to clean. We also believe in cleaning surfaces faster than you can say Basic H2®, our powerful, all-purpose cleaner available in a convenient, biodegradable wipe. You can clean various surfaces in and around your home quickly and easily. Contains 35 wipes.
Features:

All the versatility of powerful Basic H2® with the convenience of a wipe. Contains 35 wipes.
Versatile cleaner – removes dirt, grease, and grime from any washable surface, inside and out.
Cuts through the most stubborn grease and grime, leaving no smeary residue.
Cleans windows, mirrors, countertops, furniture, walls, and more.
No rinse, no residue, streak-free formula.
Helps prevent fogging on glass
Nontoxic
Natural
Biodegradable wipes
Recyclable wipes
No phosphates
Shaklee Difference:
On soil removal 12% better than Mrs. Meyer's® Clean Day Surface Wipes and comparable to Method® Antibac Wipes and Green Works® Compostable Cleaning Wipes. On filming/streaking, just as effective as Green Works, Method, and Mrs. Meyer's.*
* Source: Sterling Laboratories. These performance comparisons were conducted on Oct. 14, 2013 and are valid only for the named products marketed at that time. All trademarks are the property of their respective owners.
Directions:
Directions for best results:

When doing windows and mirrors, follow with a dry cloth. Toss dirty wipes in your recycling bin.
Uses:
Kitchen: appliances, countertops, sinks
Bathroom: mirrors, tiled walls, toilet seat, tub
Automobile: window, dashboard, vinyl seats
General use: computer keyboard, phones, glass and mirrors, stainless steel, metal, chrome, and sealed wood, marble and granite